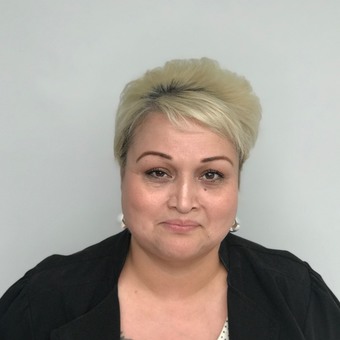 ​
​
Name: Marci Sanchez-Lopez
Title / Branch: Branch Manager / Waukegan
Hobbies: Cooking and experimenting with new recipes
Favorite AP Traditions: Christmas celebrations and Halloween contests
Work Desk Essentials: 6-year-old elephant base bamboo plant
​
​
​​
A Day in the Life of Marci Sanchez-Lopez: Spreading Positivity and Productivity
Meet Marci Sanchez-Lopez, the vibrant and dynamic Branch Manager of our bustling Waukegan office. With her infectious enthusiasm and unwavering commitment, Marci is a true driving force behind our team's success. From conquering tough challenges to sharing fun anecdotes, Marci's journey is a testament to personal growth and resilience.
As the sun peeks over the horizon, Marci arrives at work with an energizing smile that sets the tone for the day. The first thing on her agenda? Connecting with her teammates and getting started with the basics. Greetings exchanged, she dives into her emails, priming herself for the day's tasks. Soon, the entire team gathers for their morning huddle, a ritual that kickstarts their productivity and camaraderie. Together, they strategize to ensure the day is nothing short of a success.
Marci's secret weapon in her organizational arsenal? Going back to basics and setting a strong foundation for her team. In an ever-changing staffing landscape, Marci thrives by staying rooted in her tried-and-true methods. With a blend of personal accountability, structure, discipline, and transparent communication, she tackles even the toughest challenges head-on.
If you ever visit Marci's desk, you'll be greeted by a bamboo plant nestled in an elephant base. A cherished gift from a peer, this trusty companion has accompanied her for six years, symbolizing growth and steadfastness. It's just one of the many facets that make Marci's workspace uniquely her own.
In the midst of a bustling day, Marci knows the importance of taking a breather. A quick break and a refreshing large iced Coca-Cola are her go-to's for recharging her spirits. It's these small moments of self-care that keep her energized and ready to face whatever challenges come her direction.
Marci's journey in the company is nothing short of remarkable. Starting with zero experience in the staffing industry, she carved her path as an onsite coordinator and grew into her current role as a Branch Manager. Her tenacity and determination remind us that growth knows no bounds.
But Marci is more than just a dedicated employee—she's a Halloween contest champion! She recounts winning the Accurate Halloween contest two years in a row from 2020 to 2021 with a Kiss (rock band) theme in 2020 and an Addams family theme in 2021. Her creativity and sense of fun add a delightful spark to the office atmosphere.
Beyond her work persona, Marci is a culinary maestro. Her colleagues are often surprised by her passion for cooking and experimenting with new recipes (she notes that her best recipe is for her famous Salvadorian Chicken Tamales). It's a testament to her multifaceted nature and her ability to infuse creativity into every aspect of her life.
Collaboration and connection are key to Marci's success. By treating her coworkers with respect, she fosters positive relationships that weather any storm. Whether it's a routine task or a daunting challenge, Marci's ability to connect shines through.
And when the holiday season rolls around, Marci's excitement is palpable. Christmas celebrations are her favorite work-related tradition, where she radiates joy and spreads holiday cheer throughout the office.
In the bustling world of staffing, Marci Sanchez-Lopez is a beacon of positivity, productivity, and personal growth. Her journey from a newcomer to a leader and Branch Manager is a testament to her dedication and spirit. With her warm smile, penchant for fun, and unwavering commitment, Marci shows us that with determination, every day can be a success story waiting to be written.​